About us
From a farm to a hotel
Over the past eight decades, Hotel Helmer has transformed itself from a farm with simple guest rooms into a comfortable 3-star hotel. Our house is situated in the landmarked ensemble of Schwangau and has a long tradition in the tailor's trade as well as in wood and agriculture. Josef Helmer Senior, a passionate farmer and woodworker, gradually developed the property into a vacation destination.
The hosts
Sofia and Martin welcome you! Together with a terrific team, we do our best every day to ensure you a wonderful stay with us at Hotel Helmer. 
Sofia Bardzinski, the next generation supports with them with innovative ideas and keeps the tradition of the generations before.
Martin Helmer, your contact person when it comes to a personal tip for hiking or biking tours.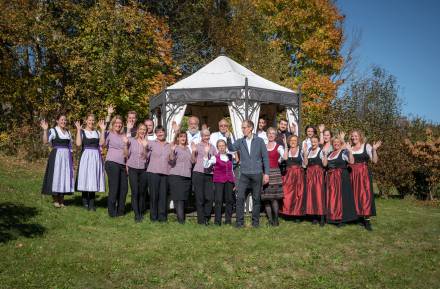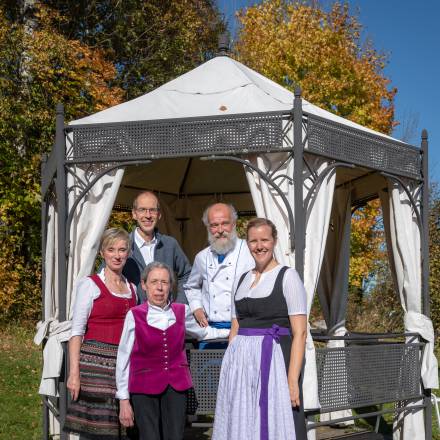 Tradition in changing times
Our house is one of the oldest properties in Schwangau and is part of a landmark ensemble. Three trades shaped the house and hotel history: The origin lies in the tailor's trade - hence the name "beim Schneiderhanser". Hotel conversions and extensions in the years 1950 and 1980, as well as regular renovation measures, make our house the contemporary hotel it is today.
Let us introduce ourselves
The siblings successfully continue the business in the spirit of their parents, Josef and Luise Helmer. Each of them has his own area of responsibility and together they complement each other, preserving the proven, initiating new ideas, and acting as a team. This is how the hotel became what it is today, a modern business that is firmly rooted in its origins.
Josef Helmer, chef and senior farmer prefers to work with his own products. This is how a typical Allgäu soul food cuisine is created!
Anni Bardzinski takes care of the needs of our guests and staff. Fresh flowers, the right table arrangement, and a smooth flow with absolute coolness.
Martin Helmer, host with a passion. He is the perfect tour consultant for your bike or hiking tour and the contact person for room reservations.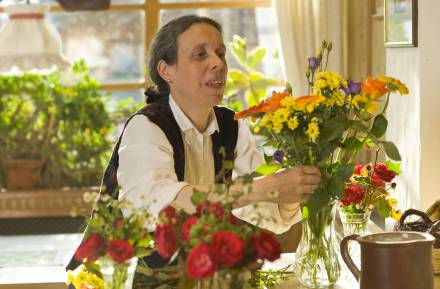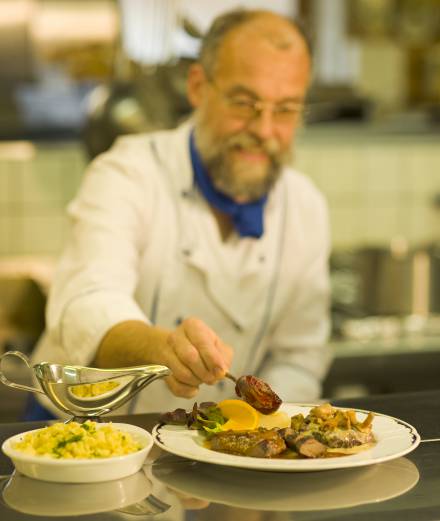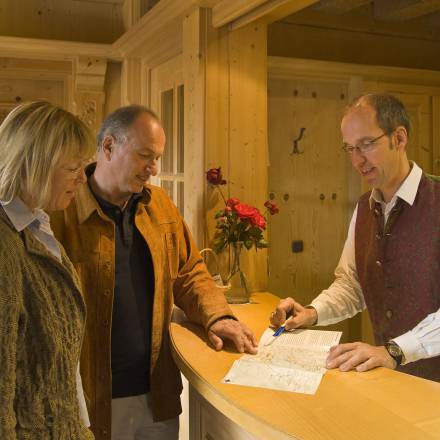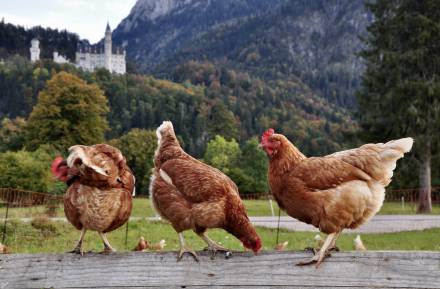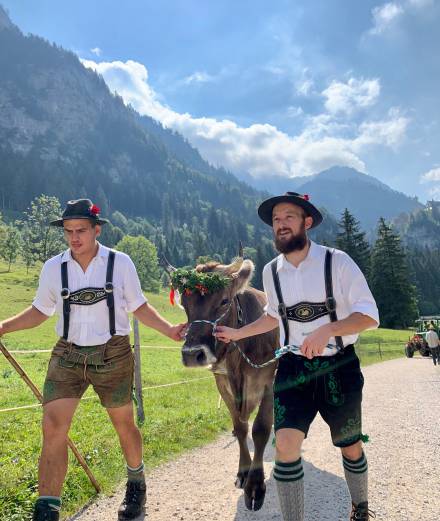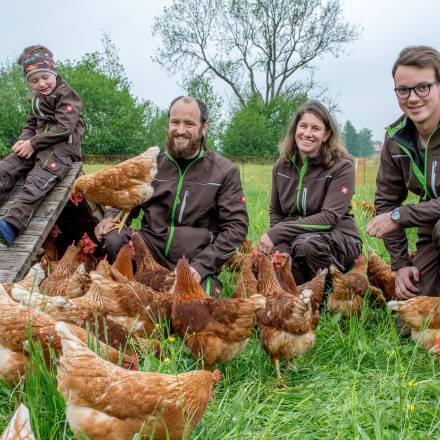 Agriculture relaunched
Agriculture has been a tradition in our family for generations, and now it is increasingly gaining importance, as regional products, short distances, and high-quality products are the talk of the town.
Our juniors, Benedikt and Magnus, have been keeping chickens in mobile stables since the spring of 2020. Every week they get to graze on a new meadow. We are proud to be able to offer our guests our own eggs at breakfast. Ask them where the stables are currently located, you are welcome to visit the chickens at any time. There's more news about our feathered ladies on our Instagram account wieseneier_aus_schwangau.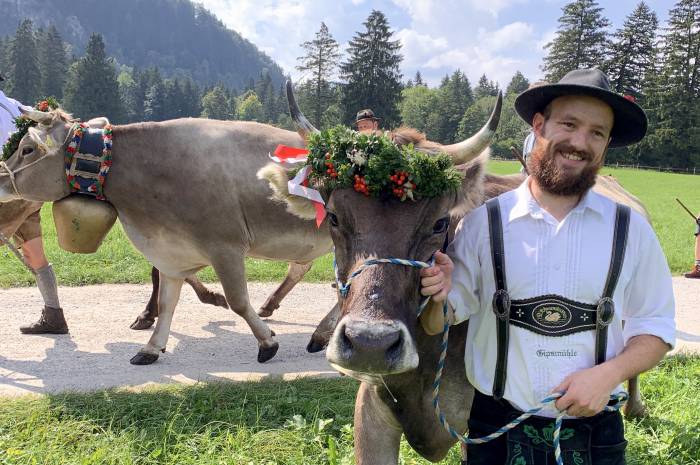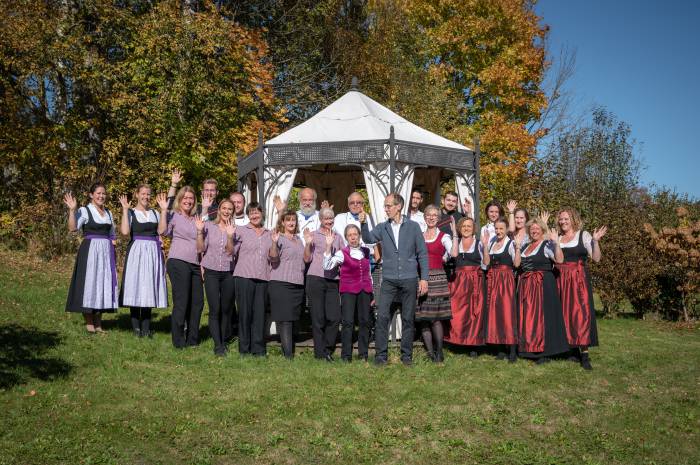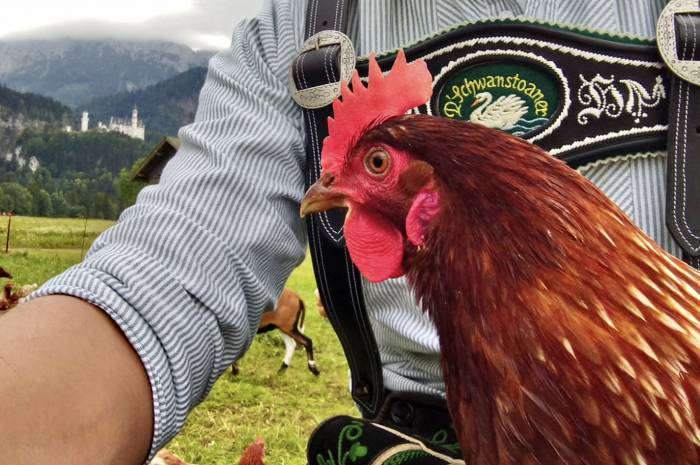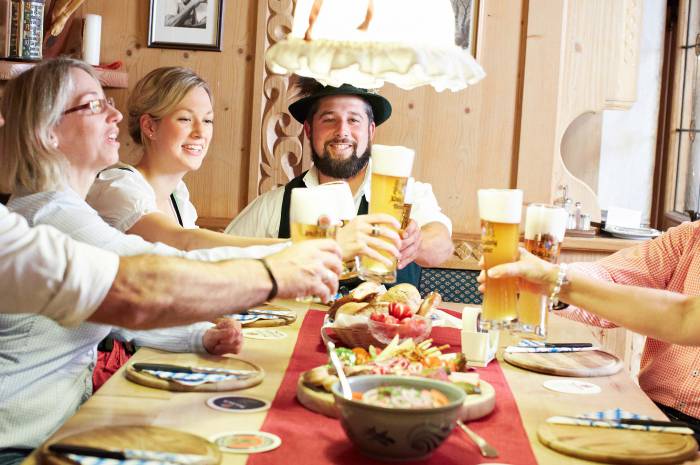 Eggs, meat, and ham specialties
Even today, our guests can enjoy our own meat and ham specialties from our extensively raised cattle. Since 2020, chickens have also been part of the farm, which are allowed to peck around in mobile coops on the most beautiful meadows in Schwangau. We serve our meadow eggs to you daily at breakfast or e.g. as an ingredient in spaetzle.
Our employees
more than 3 stars
Our hotel has held the 3-star classification since 1995. We owe this distinction in large part to our employees. We work as a team, hand in hand, always open and at eye level. Cohesion characterizes our actions. This harmonious, almost family-like atmosphere is also felt by our guests: With us, you feel comfortable - employees and guests alike.
Meadow eggs from Schwangau
Our juniors, Benedikt and Magnus Helmer, have been giving agriculture a new lease on life since the spring of 2020. In addition to the cattle, our farm now includes over 600 chickens. We are happy about daily fresh eggs, which we serve our guests for breakfast. Feel free to ask for a fried egg!
Philosophy
Hospitality with a good bit of heart
Good home-style cooking, down-to-earth, committed to our family tradition of more than 100 years and closely connected to our hometown Schwangau - that's us. Our hearts beat for you, our guests. Vacations at Hotel Helmer mean relaxation, time to enjoy, exercise in the Allgäu. This is what we stand for. We take care of you, your wishes, and your needs - with joy and with heartfelt pleasure.